Rail Engineering Education
at Kasetsart University
KURAIL believes that Rail Engineering is naturally a multi-disciplinary field. Engineers in the rail industry are coming from the background of Electrical Engineering, Civil Engineering, Mechanical Engineering, and other related fields. In this light, KURAIL has been offering classes in Rail Engineering since July 22, 2012, as selective classes for 3rd and 4th year engineering students from ALL disciplines.
The first class on SRT system has been conducted by Mr. Sanyawit Apichatapongse (Signalling), Dr. Thana Phupuekrattana (Rolling Stocks), and Dr. Attapon Kaoprasert (Permanent Way), all of them are SRT engineers. The first class in Metro System has been arranged by Mr. Rachit Raksasat of BTSC and endorsed by Mr. Surapong Laoha-Anya, COO of BTSC.
The first undergraduate class in Signalling and Telecommunication has been arranged by Bombardier, AMR Asia, and SRT, with collaborations from SRTET and Kumwell. The total number of students who graduated with their respective degrees with Rail Engineering knowledge is approximately 120 in 2014. Lao Railways has been actively participating since the beginning, with 15 people trained within this framework.
All the classes are provided in collaborations with SRT, BTSC, Bombardier, AMR Asia, Alstom, SRTET, MRTA, and Kumwell.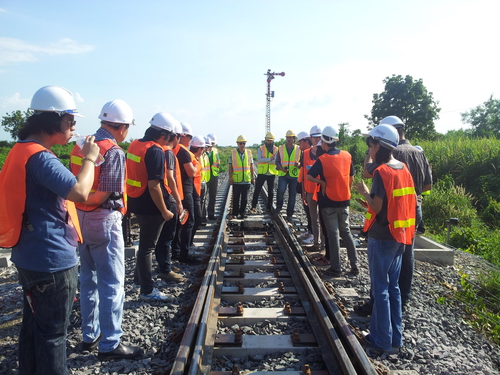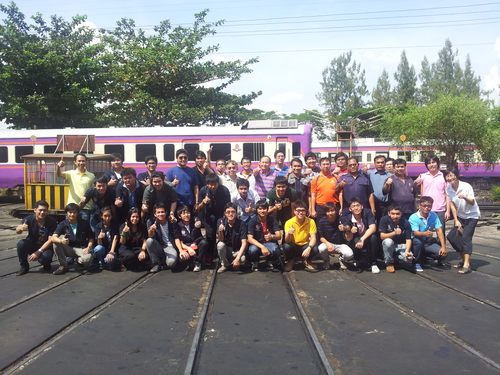 ---
The current offerings are
01200431 Principles of Rail Engineering
01200432 Rolling Stock Technology
01200433 Signalling and Telecommunication
01200434 Rail Infrastructure
01200435 Rail Operation and Maintenance
Classes are open for 3rd and 4th year engineering students of Kasetsart University in ALL disciplines. They will literally graduate with their respective majors with intermediate level of knowledge in Thai Rail Industry. Subjected to available space, special permission will be required for students from other universities and companies to join the classes.
Follow us for our current class activities.
KURail Courses
---
Pathway for KU students to join Rail Engineering Classes
Enroll with the Faculty of Engineering at KU in ANY department and ANY programs (Thai or International)
Participate in 01200431 Principles of Rail Engineering Class as 3rd year students in the second semester
Participate in the Practical Training Programs with KURAIL's partners
Continue with other classes afterward
Conduct 4th year student projects with respective faculty members within KURAIL
Go to work! or continue their graduate studies with KURAIL's partners abroad, e.g. University of Newcastle upon Tyne in UK, the Royal Institute of Technology Stockholm (KTH) in Sweden, Beijing Jiaotong University in China, or the Korea National University of Transportation in Korea
Specialized Bachelor+Master International Program in Rail Engineering is jointly arranged by University of Newcastle upon Tyne and Kasetsart University as "3+1+M" program
Students enroll with Mechanical Engineering International Undergraduate Program (IUP) at Kasetsart University
At the 4th year, qualified students join the exchange program to University of Newcastle upon Tyne for 1 year and receive Bachelor of Engineering in Mechanical Engineering from KU
Students get into Rail Engineering Program directed by Newrail, Newcastle Centre for Railway Research of the University of Newcastle upon Tyne for their Master of Engineering degrees from Newcastle in their 5th year